Workforce Development Center
Our Workforce Development Center programs work to raise Black employment and income levels through job training and placement services, career exposure, career advancement support services, seminars, coaching and long-term retention strategies.
Our programs include:
General Workforce Development
Community Justice Initiative
The Community Justice Initiative is a dual approach that uses both legal and community-based resources to educate residents about their rights, help them navigate the law enforcement and justice systems and, if necessary, provide legal expertise and advice at a critical early point in the justice process. The program aims to help ensure that individuals' rights are protected and that they are positioned to exercise their rights in the most effective way.
Digital Empowerment Workshops
Digital Empowerment Workshops enable participants to effectively search for employment through digital technology. Participants gain basic computer knowledge, develop their ability to navigate the internet, build technology skills, learn/create appropriate social media profiles, email accounts and develop an employment portfolio. *Also a part of the 10-day Success Strategies Workshop.
Employment Services
Employment Services is a full-service placement and retention operation that services the supply and demand side of the labor market. Our Workforce Development Center partners with local employers, unions, and training providers to offer employment and internship opportunities. Eligibility: Must be 18 years or older and looking for work.
Solar Energy Jobs Training Program
Solar Energy Jobs Training is a 52-hour training program that uses classroom training and hands-on lab activities to prepare students for work in the solar industry. This certificate program establishes entry-level competency and appeals to employers in the renewable energy field. Coursework helps students work toward various industry credentials, including those through the North American Board of Energy Certified Energy Practitioners (NABCEP).
Success Strategies Workshop – Job Readiness Program
Success Strategies is our comprehensive training workshop that equips individuals with skills needed to successfully implement an employment search, achieve job readiness, and gain employment. We provide expert training in resume development, career goal planning, financial literacy, professional networking, job search and interview techniques.
Urban Tech Jobs Program
The Chicago Urban League is a partner in the Urban Tech Jobs Program, an accelerated training program that recruits long-term unemployed adults from the greater metropolitan area and provides them with workshops to build solid job readiness tools and adaptability skills to respond to a fast-paced, high demand environment while offering nationally recognized certification coursework and paid work experience.
For more information on General Workforce Development Programs, contact Andrew Wells, Director of Workforce Development, at awells@chiul.org.
Community Trades And Apprenticeship Programs
Apprenticeship Chicago
Apprenticeship Chicago offers employers in various sectors the opportunity to build a workforce trained to meet their specific needs. The registered apprenticeship model combines on-the-job training with job-related classroom instruction and progressively increases the skill level and wages of the apprentice as he or she advances through the program.
Community Trades

Our Community Trades program helps participants develop the core competencies required in the construction industry, strengthen job readiness and life skills, and prepare for industry-specific testing that is often a prerequisite for employment.
CONSTRUCT
CONSTRUCT is designed to help participants develop the core competencies required in the industry of construction (as it relates to utility companies), strengthen job readiness and life skills, and preparation for industry required testing that is often a prerequisite for employment.  It also includes job shadowing to give candidates an up-close look at the various careers paths available.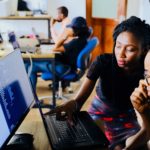 Youth Workforce Programs
Opportunity Works Youth Jobs Initiative
Opportunity Works Youth Jobs Initiative assists economically disadvantaged young people between the ages of 18-24, who are out of school and out of work, and face significant barriers to education and workforce success, with year-round employment and training services. The goal is to help program participants overcome their barriers and successfully transition to self-sufficient adulthood. We assess the participants' skills, interests, needs and personal goals; collaborate with participants to create their customized service plans; and connect participants to local economic, educational and occupational training opportunities, and community resources.
Youth Mentorship Program
Our mentorship program supports participants in Opportunity Works with career coaching, professional development, retention, and development of social-emotional intelligence. Mentors expose the mentee to new possibilities, places, networks, and experiences to help him/her gain the tools needed to aspire to and achieve his/her post-secondary goals in college, work, and life.