Golden Fellowship Exchange
November 05, 2021
8:30 a.m. - 1:30 p.m.
Hyatt Regency Chicago
151 E. Wacker Drive, Chicago
ADMISSION IS FREE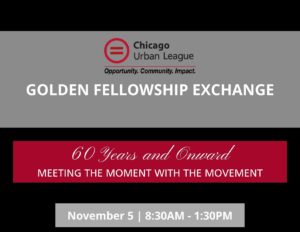 Join our 2021 Golden Fellowship Exchange in-person or virtually. Space for in-person attendance is limited and all in-person attendees must show proof of vaccination. Use the links below to register.
— 8:30 a.m. —
Coffee and Conversation
— 9 a.m. – 10:15 a.m. —
Opening Session
Attorney Benjamin Crump will accept the 2021 Edwin "Bill" Berry Civil Rights Award, the highest honor bestowed by the Chicago Urban League.
Social Justice Exchange
Police and Community Relations are Seriously Broken: Can Our Youth Help Fix Things?
— 10:30 a.m. – 12:20 p.m. —
Panel Discussions
Workforce Exchange
Vaccines Are Free and Covid Financial Assistance Is Ending. What Will It Take to Get People to Go Back to Work?
Wealth-Building Exchange
Homeownership Can Be A Path to Building Wealth. How Can We Make it Work Better for Black People?
— 12:30 p.m. – 1:30 p.m. —
Hackathon
Pitch Competition
Disrupters. Creators. Innovators.