Our Human Capital Center serves youth ages 13-24 and aims to cultivate the kind of transformational growth and commitment that will lead to economic self-sufficiency and improved quality of life.
Our programming aims to help youth reduce involvement with the criminal justice system, decrease school absences, and improve academic performance and socioemotional competencies.
We provide:
Outreach
Mentoring
Intake and Assessment
Individual & Group Counseling
Job Readiness Training
Referrals for Wrap-Around Services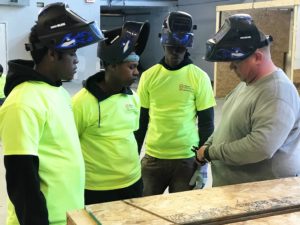 Programs
Trades Instruction Program (T.I.P.)
T.I.P. is for youth ages 13 – 19. Youth Trainees develop the skills needed to obtain and maintain sustainable employment in the construction trade industry.
T.I.P.'s platform of trade construction services youth on the core issues facing low-income communities: self empowerment, education, employment and crime prevention.
Project Connect
Project Connect is the Chicago Urban League's mentoring program for high school juniors and seniors and first-year college students.
Mentees receive secondary support from professional men and women who volunteer to spend up to 4 hours a month mentoring them in a healthy and productive manner. The program is designed for mentors to encourage and motivate youth participants, invest in their lives, and to form long lasting, impactful relationships.
Youth mentees come from the following programs:
Urban Youth Connection (UYC): UYC is a mentoring, violence prevention/ intervention academic and recreational enrichment program that promotes social/ emotional and behavioral management in high risk African American males.
G.I.F.T. Program: G.I.F.T. stands for Growing in Fortitude Together. G.I.F.T. is a comprehensive mentoring program designed to help adolescent girls build healthy attachments to others and strengthen their emotional self-regulation with the aim of increasing their prosocial relationship skills and improving their positive sense of self.
—
Volunteer mentors must be 25 or older, be willing to commit to 1-3 years of mentorship, and complete our mentorship training.
Interested in volunteering? Download and complete the mentor application. Submit the completed application to ahamilton@chiul.org.
Project Connect Volunteer Mentor Application
Contact
For information about Human Capital Center programs, contact Angela Hamilton, Senior Director of Youth Development, at 773-602-3040 or ahamilton@chiul.org.