SUMMIT 2021: Leading Toward Equity
June 04, 2021
8:30 a.m. - 12 noon
Check back for more details.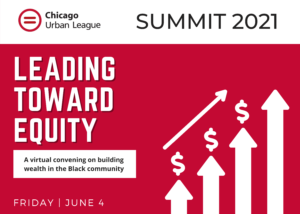 On June 4, 2021, the Chicago Urban League will convene its 2021 SUMMIT, themed Leading Toward Equity. In a virtual, daylong event, we will share new research on Chicago's Black-owned businesses from our Research & Policy Center, and feature a solution-focused conversation on addressing the needs of Black business owners. The morning discussion will conclude with a keynote presentation, which will be followed by our WOKE Entrepreneur Summit, our Citywide Job Fair, the IMPACT Summit, and our 2021 Youth Summit. All events will be held on a virtual platform.